how I edit my pictures
if you're someone like me, aka completely anal and ocd about your instagram, a little edit is always needed to seamlessly blend a picture into the rest of your feed. wow even writing this sentence made me cringe. I want to start out with saying that I am NOT obsessed with my instagram, I am just an incredibly visual person and if I do something at all, I want to do it the right way.
first off, I have an app called planoly that shows me how an image would look on my instagram next to the others without actually having to upload it. pretty much just type in instagram planner into your app store and it will give you thousands of alternatives. that way I ensure that my feed is somewhat consistent.
I take pictures in quite minimalistic scenarios. that could be a white wall, a simple background, art galleries, industrial buildings etc.
let's do a STEP BY STEP.
my friend took this picture of me that I think could make it onto IG. what annoys me is that it isn't straight, I don't like the wood of the mirror frame and I think my hair is a bit frizzy. it was taken on an iphone 7 plus but everything looks a bit too blurry.
these are things I'm gonna change on facetune. I do want to highlight that I do not alter my face, what the app is actually for. I used to do it when I first got introduced to the app, but I think it's very addictive and unhealthy for your body/face image. sooner or later you won't be able to upload an image without smoothening out your face or changing your body shape. what the app IS actually amazing for is changing colours of certain things, like my wooden mirror frame. you simply go on tones, pick another colour and change it to whatever colour you desire. I also used the smooth tool on my hair.
now the picture goes up on the vsco app, for the actual edit.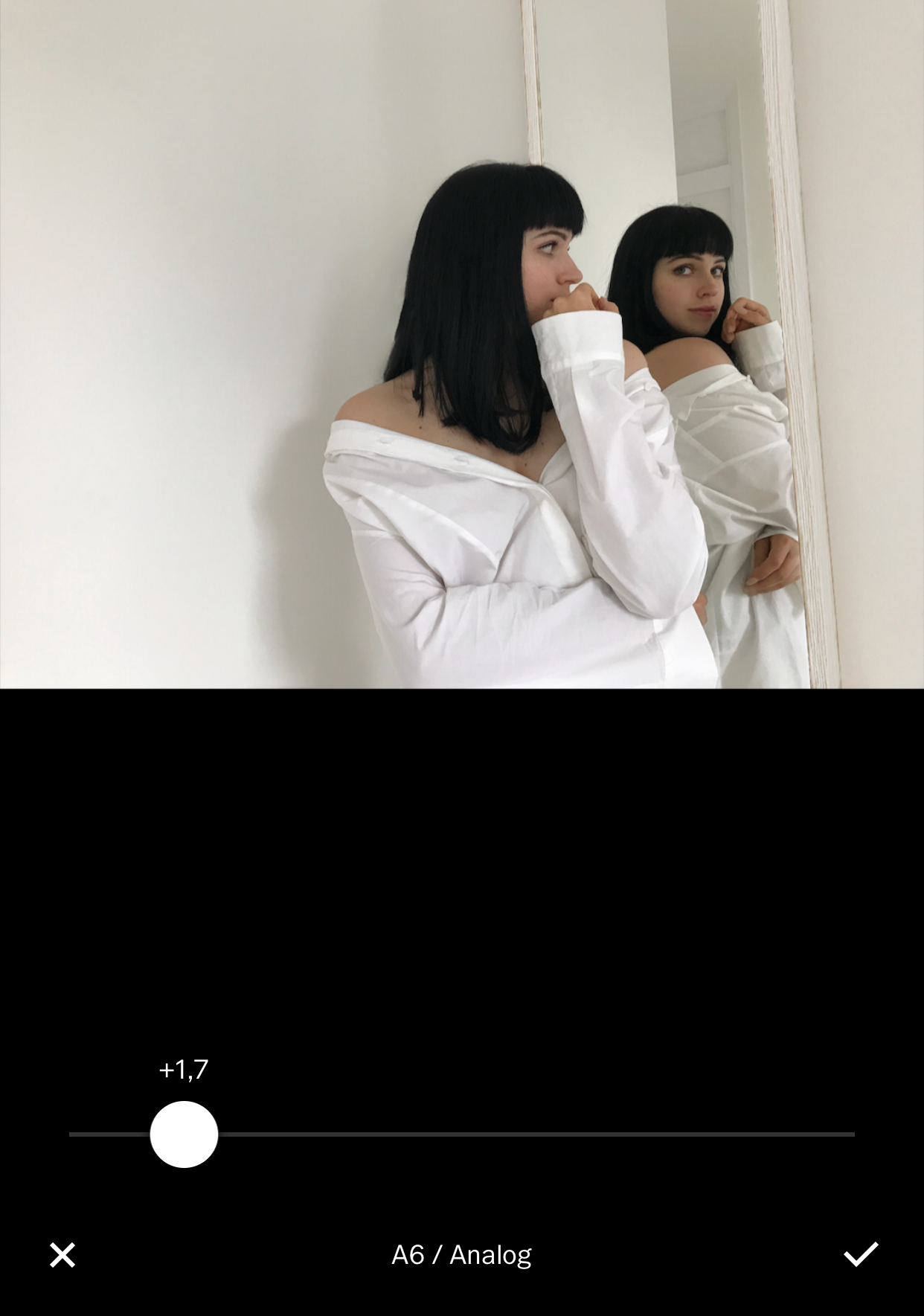 right now I like the A6 filter the most, it makes it seem a bit more analog.
I straighten the picture, and end up cutting the one side of the mirror frame out as it does look a bit wonky.
then I use the grain, sharpen and exposure settings and play around with them until I think it looks good. the grain again helps with a bit of an analog feeling, while the sharpness ensures that you can see the details. exposure just brightens it up a notch.
I don't even know if you can tell the difference, but I DO- so for me that's enough of a reason to do these little tweaks. it just gives the pictures a little something extra and makes everything blend in well together (at least that's what I'm telling myself). these edits would probably take me about 90 seconds form start to finish.
I mostly crop it to a square or a 4:6 ratio. I don't use the edits that are built into instagram as I think they mostly just take away from the quality. the expose feature for example is way better on vsco.
I think little edits like these don't mean that your pictures are less authentic or fake- my instagram represents my work and based on my feed brands decide wether or not they're going to work with me and can expect good content. I don't really judge anyone on how much they edit their pictures, I just know from personal experience that over - editing yourself can mess with your self esteem and I'd rather not get the "wow, you look a lot different IRL...".  
FIN.